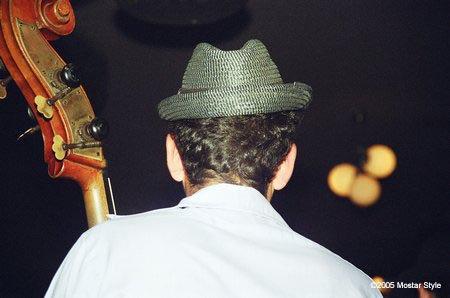 On Wednesday, September 28th at the Alimentation Générale, the Mostar Style association team organized a spectacular meeting: the Parisian band La Caravane Passe, versus the Austrian challenger
Fatima Spar und die Freedom Fries
. Once more in its
Danube Projekt
scope, Mostar Style set up a challenge for both performers to keep a delirious audience up and rocking all night long !!!
Though it is hardly needed to introduce La Caravane Passe, let's just say they are one of the famed festive tzigan bands performing in Paris: catchy melodies, mixed lyrics in various languages and an unlimited energy are some of their strongest features.
For their part and thanks to Mostar Styles's invitation, the Viennese champ Fatima Spar und die Freedom Fries could perform in France for the very first time, even though they have gained a terrific success in some of the greatest European festivals : Sziget in Budapest, Stadtfest of Vienna, Balkan Fever Festival in Austria, Hovelive festival in Belgium…
The gig began with the entrancing rhythms of the Freedom Fries soon led by a feverish and lascivious Fatima. With their mastery of various music styles and their amazing stage performance, the band rapidly put fire to the red-hot audience by balancing the ambiance between Balkan music and their wonderfully actualized swing right from the 1930's. What an incredible show: crazy brass and accordion solos winding around original Turkish and English lyrics from Fatima herself, that she sometimes sings into a megaphone!!!!
The audience was thus already won to their side when the musicians from La Caravane Passe went on stage, for the first time in this place, and spread the euphoric vibes of their True Fake Wedding. Ovations were still echoing through the place as DJ Tagada's sound system brought a nice conclusion to the party.
Many thanks to all the people that helped us to organize this event : both team from Alimentation Générale and Mostar Style, DJ Tagada and our partner Eurolines. And of course, last but not least, big up to you, beloved fans.
Thanks also to Fatima Spar und die Freedom Fries and to La Caravane Passe, it was a fantastic evening and it demonstrated that Europe has no boundaries within it. Again congratulations and thank you.