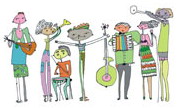 It's a great pleasure for us to welcome the reggae-rock band Zoster, straight from Bosnia-Herzegovina !
Zoster want to broadcast a message of peace, tolerance, education. Hence they naturally chose reggae music and its positive vibrations. Mostar Style is even more thrilled by this invitation as Zoster come from Mostar: the symbolic city of the association !
Zoster will be in concert at the ALG (64 rue J-P Timbaud, Paris 11) on Wednesday 22nd March at 8:00 PM with Mahavelun.
The next day Thursday 23d March at 8:30 PM with the Parisian band Alma on the Antipode barge (69 quai de la Seine).
Two events you cannot miss celebrating the meeting between Western and Eastern Europe!