Route
The Danube is one of the main European rivers, second only to the Volga, and the only one to flow towards East. It is a natural and historical link between eastern and western European countries.

The barge will go through :

Germany:

Francfort (24/06), Ingolstadt, Regensburg (01/07), Straubing, Passau

Austria:

Linz (08/07), Melk, Krems, VIENNA (15/07)

Slovakia:

BRATISLAVA (22/07), Komarno

Hungary:

Esztergom; BUDAPEST(29/07), Duna¨jvÓros, Mohac (05/08)

Croatia:

Vukovar

Serbia:

Novisad, BELGRADE (12/08), Smederevo

Bulgaria and Romania:

Turnu Severin (19/08) Vidin, Nikopol (25/08), Ruse, Cernavoda, Constanza (09/09)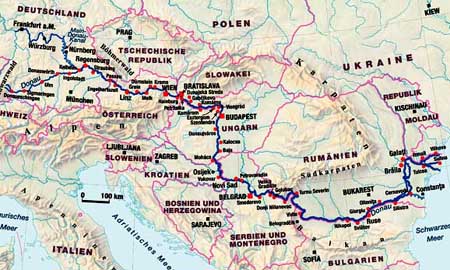 The Danube River
Long of 2 850 km, the Danube has unrolled its placid waters for millenias. It takes its source in the Black Forest, in Germany, and crosses Austria and its Vienna capital to join Slovaquie and its Bratislava capital. It flows through Hungary, separating Buda and Pesta, the two parts of the capital located on both banks of the river. The Danube carries on its road on the Serb territory while crossing the town of Novi Sad in the province of Voivodine populated of a strong Hungarian minority, before joining the Belgrade capital. The river spreads out all its majesty at the Iron Doors, between the Romanian Carpates and the Yogoslavians Balkans. It traces then the border between Bulgaria and Romania, before joining the Black Sea by the three branches (Chitila, Sulina and Saint-Georges) of its delta, which covers a surface of 3 700 km2, of which the widest is in Romania.

On its course, the Danube collects water from multitudes of affluents, the principal ones being Lech, Isar and Inn in Germany, Enns and Morava in Austria, the Tisza, Drave and Save in Yugoslavia. Its flow varies according to climatic data from 6 300 to 22 000 m3 a second.